Back during the summer when I first started this blog, I asked my dear friend Kevin J from over at 410 Scrolls to grace Write For Freedom's presence with a guest post, because he's an awesome writer and stoopid funny. It took him a while, but he's finally come around with his latest stroke of literary genius: an overview of the clusterfuck that is the video game 50 Cent: Blood on the Sand.

Enjoy:


"
THQ Inc. today announced the acquisition of the publishing rights for 50 Cent: Blood on the Sand for the Xbox 360(R) video game and entertainment system from Microsoft and PLAYSTATION(R)3 computer entertainment system. The highly anticipated sequel to the multi-million unit selling title 50 Cent: Bulletproof, 50 Cent: Blood on the Sand will put gamers in the role of world famous hip hop artist 50 Cent as he, and members of G-Unit, battle their way across two war-torn countries on a mission to collect payment from a crime cartel boss. 50 Cent: Blood on the Sand is currently scheduled for worldwide release in early 2009, featuring run and gun shooter game play, brawler style combat, online co-op and eighteen exclusive new 50 Cent tracks
." [
THQ Announces Acquisition of 50 Cent: Blood on the Sand
]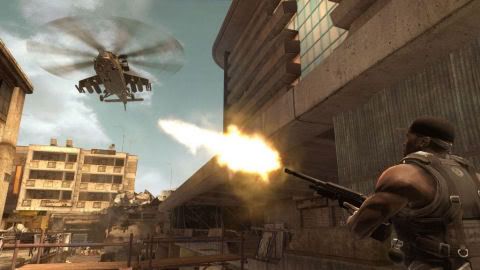 Essentially, what the preceding the paragraph dictates is that Fiddy is coming back for one more round in the videogame realm after the commercially successfully, but god-awful, mind-numbing, eyes-bleeding experience that was his previous game title, "50 Cent: Bulletproof" (an epic that detailed his hunt for hitmen that attempted to end him). I'm never one to knock the hustle. I do try not to, often and with discretion. I wonder though – how does someone transcend making music to stopping terrorism to regaining some bling that he lost. And yes, that's the story.
"
When 50 was onsite at Vivendi with Tony Yayo, one of the things they challenged us to do was introduce new elements of gameplay in the game," Blean said. "Instead of having them always running and gunning, they wanted something that would break the pace of that." So "Blood on the Sand" will include vehicle missions such as a driver-and-turret-gunner Humvee road chase and a helicopter-borne shootout, in which 50 and his ally "rain death from above" onto enemies in a city.
" [
50 Cent Video Game Exclusive: 'Blood On The Sand' Details, First Images Revealed
]
The first game was essentially a G-Unit album wrapped with the marketing appearance of a videogame and multimedia tie-ins. But it was bad. So, so very bad. And you never want to down someone else's hard work, and I'm sure the staff on the game worked hard – but it was bad. Just. Bad. Blood on the Sand doesn't seem like it will fare that much better. For the more technical among you, the game runs on the Unreal 3 engine, a game engine that powers some extremely high-profile and great looking games. Do I really want to watch Fiddy drink Vitamin Water while shooting terrorists to get back his bling? If you answered yes, then welcome to the target demographic. Curtis greets you with open arms.
Maybe I am approaching this all wrong. Maybe this will be a journey rich with subtext and philosophical themes, changing the way we envision what conflict resolution on a worldwide scale could be. Maybe Fiddy is the future. Let's examine some of his body of work. From the work that transcends time, "Gunz Come Out":
"
I'll come through and touch ya, walk out then cut ya
In case your dumbass wanna tussle
AR-15, co-exist to make the shell case muffle
Scope, infrared, run you're still dead
Hit your calf, hit your ass, hit ya back, then your head
Contract killa, murder for the scrilla
Search, find a nigga, run up behind a nigga
Shoot car windows out to flatline a nigga
"
If we can't depend on Fiddy to "shoot car windows out to flatline a nigga" and take that same vibrancy and leadership overseas – then who can we depend on? If celebrities can't insert themselves into scenarios they never would directly participate in, and thus make a great deal of money on it that will never find its way to the families of those who do make a difference every day placing their life on the line, then what's the point of even getting out of bed in the morning?
We Love You Too, Fiddy. Go Get 'Em.